The debate between Linux and Windows hosting is never ending. However, whether to select Linux or Windows depends completely on the operating system you want to go with. There are some misconceptions that need to cleared first prior to diving deep into the debate. Some people think that since they use Windows desktop machine, they have to select cheap Windows hosting and vice versa. But this is completely wrong.
The most important thing is to find the hosting requirements of your website. The selecting of operating system for hosting basically depends on the development language or database used for your website. This will ultimately help to find what will work the best for you. To make a decision about the OS, you should understand the differences between the two along with their benefits and limitations. 
Understanding The Basics
Windows web hosting is certainly a good option for those who have the knowledge about Microsoft technologies. This is because Windows is a Microsoft product and can easily integrate with other Microsoft products. The significant reason behind its popularity is the support from Microsoft.
Linux web hosting is more popular than Windows unlimited web hosting today and the reason is affordability. Therefore, a majority of new businesses select Linux hosting for reducing the startup costs. It is the most stable, reliable and efficient system. 
| | | |
| --- | --- | --- |
| Features | Linux Hosting | Windows Hosting |
| What is it? | An open source software developed by community. | The family of operating system (OS) developed by Microsoft. |
| Applications Support | It supports SSH, FrontPage Extensions and scripts or applications that specific Apache modules. | It supports ASP Classic, ASP.NET, MSSQL, MS Access, Visual Basic Development, C# and Remote Desktop. |
| Threat Detection and Support | When a threat is reported, the developers from different parts of world, work on it | When a threat is detected, Microsoft releases a patch and update that can fix the issue. |
| Control Panel | cPanel/WHM is used for Linux-based hosting plans. | Plesk is used for Windows-based hosting plans. |
| Server Access | User can access the server via FTP or SSH. | User can access the server only via FTP. |
| Databases  | MySQL | MySQL, MSSQL and MS Access |
| Migration  | It is easily possible to host a website designed to be hosted on a Linux based web server on a Windows web server. | You can't host a website designed for a Windows based server on a Linux web server easily. |
Now that you have got an idea about the difference between Linux and Windows web hosting, let's check the best web hosting provider for Windows web hosting.
So, want to host your ASP.NET website with SQL database on Windows server 2016? Immediately call MilesWeb and leave your server management to them. 
About MilesWeb
Stepping in the world of web hosting in 2012, MilesWeb today has become the best web hosting company globally today. They offer web hosting services such as shared, VPS, dedicated, cloud, WordPress, etc. to fulfill the needs of all websites.
Popular for their customer support and best uptime, MilesWeb team ensures that all your queries get resolved instantly as well as your website always stays up. You also get 30 day money back guarantee.
Their Windows web hosting plans start with Tyro at Rs.40/mo, Swift at Rs.130/mo and Turbo at Rs.170/mo. 
Features 
Register a Free Domain: MilesWeb allows you to register a domain name for free. 
Free Migration: You can migrate your website to MilesWeb server without paying any extra charges. Also, they ensure that there isn't any loss of data during the migration.
SSD Drive: Your website performance will improve with the SSD drives on your server, offering blazing fast performance.
Plesk Control Panel: You can manage your Windows hosting account with Plesk control panel. It includes managing your domain, website, emails and databases.
1-Click Installer: Easily install over 400 applications on your server with just one click. 
Secure Email: It is possible to access your emails securely from any web browser on Windows, Mac or any mobile devices. They offer support for POP3/IMAP/SMTP protocols for sending as well as receiving emails.
Programming and Database: They offer programming languages such as ASP/ASP.NET 3.5 and 4.6, PHP, SSICurl, GD Library, MVC and AJAX. The databases offered by them include MySQL and MS SQL 2012 Express.
Instant Account Setup: After you do the payment, they will immediately set up your Windows hosting account. No need to wait for long to setup your business online.
Check their ratings on different review sites: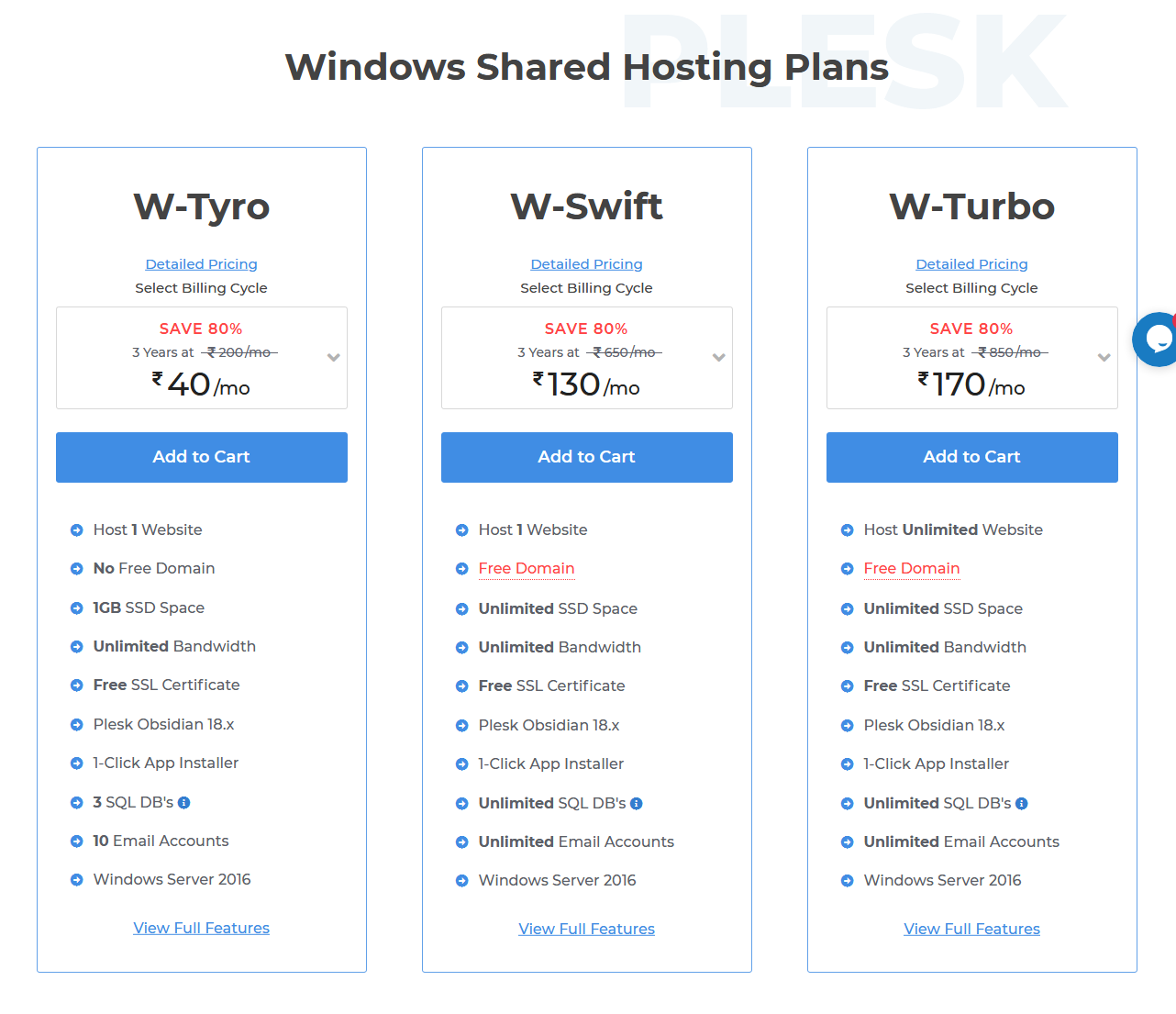 Check their customer reviews:
Bottom Line
After comparing Linux vs Windows web hosting, I can say without any specific context that this really is an apples vs oranges comparison. Frankly speaking, one can't say that Linux or Windows Web Hosting is the best.
The fact is that both platforms are just different tools for different scenarios. But one thing I would recommend you that, you won't find the best Windows web hosting provider other than MilesWeb.