Youtube: many individuals or organizations want to promote their video ads and reach a number of viewers or users on Youtube.
For doing this many people or organizations hire a firm who provides the services of youtube marketing. But many are there who don't have that much budget to take the digital firms services such as entrepreneurs, small business owners, freelancers, etc.
So, now many like them want to know how to advertise on youtube and reach the number of viewers. So for them here are the secrets of the power of youtube video marketing.
Let's see how to advertise on youtube
The way you promote on YouTube will vary depending on your goals. Advertising on YouTube can increase your brand recognition, influence purchasing decisions, improve sales, and strengthen brand loyalty. YouTube video adverts can be utilised to achieve these goals in the following ways: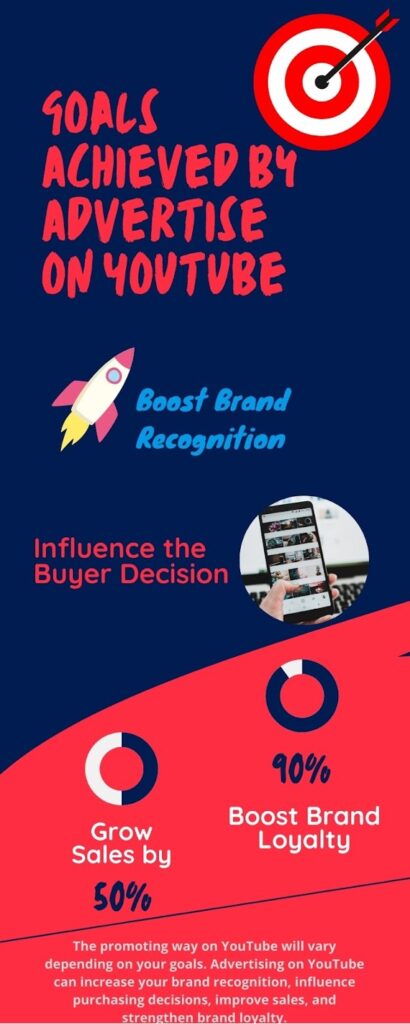 Boost Brand Recognition – Start introducing your product through videos to people who haven't heard much about it, if at all. So that you know there are similarities, target people that are interested in comparable items and areas to you.
Influence the Buyer Decision – Videos that explain why your product is a good option for your consumer, with hard proof to back it up, translate the best, so use them to your advantage.
Grow Sales – Experiment with new tactics and reach out to lookalike viewers you've never aimed before. Investigate ways to connect your brand to others and begin increasing sales.
Boost Brand Loyalty – Incorporate customer testimonials into your films to demonstrate to prospects that you offer the greatest products as well as services in the industry.
Let's see how to create advertising campaign for a video
The most crucial aspect of advertising on YouTube is the advertising campaign. Many people have no idea how to market or how YouTube advertising works. So, let's have a look at how to set up an advertising campaign for running video ads on YouTube.
Step 1 – Upload your Advertisement Video on Youtube
Before starting to ad on youtube need to create your advertisement video and Upload on your youtube channel first.
Log into your YouTube account and click the mini camcorder symbol in the top-right corner of the screen. Simply select 'Upload Video' from the drop-down menu.
Now you can see the option of upload from where you can upload your ad video from your device.
After Uploading video on youtube add necessary details like titles, description, tags, thumbnails etc. Must choose a unique title for your video so that viewers click on your ad video.
Step 2 – Now Create Campaign on Google Ad
Once you have uploaded your video on youtube successfully without any copyright issues then you need to go and create an account on google ad with your email address.
After that when you've logged into your account, go to the left panel and choose "All campaigns." Next, to make a new campaign, press the big blue "+" icon.
Now in the next page you will see the 5 options of advertising type that are
Search,
Display,
Shopping,
Video,
Universal App
After selecting the "Video" option, choose a single goal that matches the main aim you want your campaign to accomplish for your company.
Select the "Website traffic" aim, for example, if you want to utilize YouTube advertisements to boost the number of visits to your website. Then, as you continue to configure your campaign, you'll see suggested features and settings that will assist you in generating website traffic.
It's totally up to you, you can run your ad without goals. Also, you can add or remove your goals anytime you want.
Step 3 – Setup Your Campaign
Choose a Name for your Campaign because this is just for internal use, pick a name that accurately defines your campaign.
When you start running numerous ads in Google Ads, this will make it easier to distinguish which one is which.
After this Setup Your Campaign Budget.
Begin by determining how much you want to spend on a daily basis.
Initially, it's better to start small. You may then test and modify your advertising plan to guarantee you're getting the best potential return on investment.
Now you have to select options from Standard and Accelerated delivery methods.
So the recommendation is that you must choose the Standard option because it will show your video ad all day according to your setup budget. But if you select the Accelerated option your ad will broadcast at every available chance and your budget will run out faster.
Now set Starts and Ends date, on which days your ads will run.
Now select your networks where you want to show your ads. For this you will get three options
Youtube Search Results – your ad will run on youtube search results
Youtube Videos – Ads will display on youtube homepage or channel pages or any video pages.
Video Partners on the Display Network – In this your adverts will appear on Google's other advertising platforms as well.
Next you have to select the language option where it's recommended to select All Languages.
Now Select the Location.
Now select bidding strategy means how you want to pay for your campaign. Google Ad gives you four options


Maximum Cost Per View
Maximum Cost Per Mille
Viewable Cost Per Mille
Target Cost Per Acquisition
Now choose Inventory Type
Here you are allowed to set your ads showing content like if you have dropshipping business then you don't want to show your ad on Violent or Sexual content.
Exclude Content- This allows you to opting out of specific categories of sensitive content, such as "Tragedy and conflict" and "Sensitive social concerns." Don't skip this because it will result in disastrous for your brand!
Step 4 – Select the people you want to reach
In this step you will choose the broad manner of audience like you will set the audience by their behaviour, interests, by age criteria, by gender, by status, etc.
Step 5 – Where You Want to Show your Ads
Now here you can select the type of content on which you want your adverts to appear like on keywords. So, input keywords on which you want to show your ads.
Select your Ad placement- You may now choose particular locations where your adverts will appear. If you leave this field blank, your ad will display on any YouTube or Display Network placements that satisfy your other targeting criteria.
Step 6 – Select your Marketing Video
Select your marketing video from the youtube where you have uploaded your advertising video.
Step 7 – Configure your Youtube Ads Video Ad
Now at last you need to select your video format. Based on the campaign choices you've made so far, ads should show you which options exist.
After this now simply save and continue. Your ad will start running as per your setup.
3 Benefits of Youtube Advertising
Let's finish this article with 3 benefits of advertising.
Reach– Youtube is a component of the Google empire and has billions of users. As a result, YouTube has the ability to reach a large portion of the public.
Targeting– Based on the individual interest and preferences youtube is allowing you to target to show video to the right person.
Flexibility– Youtube advertising is not static. So, you can change your ad targeting details anytime even on a real time running ad.
Sources: LenosTube Ads, Google Ads Skillshop.