Host4Geeks is a leading web hosting supplier that provides its services in the countries of the US, UK, and India. Over recent years, it has witnessed an extensive clientele surpassing the figure of ten thousand with acknowledgment from individual businesses and global enterprises.
The network company uses cloud-supportive groundwork to offer safe and secure web hosting, ensuring a highly efficient platform to online businesses falling apart owing to the lousy server speed. Its areas of expertise are cPanel Hosting, Reseller Hosting, Application Hosting, VPS Servers, and Dedicated Servers.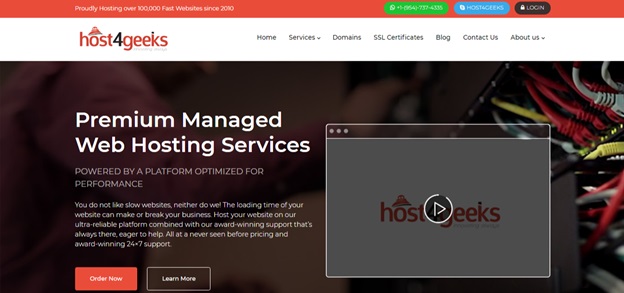 Host4Geeks claims to be providing plenty of features over competitive prices, excellent customer service, and much more, which all an individual needs to drive a successful online website. Below mentioned is all you need to know about features, pricing, services, and everything to tell you how helpful it is to your online commerce.
Key Features & Pricing:
At the starting price of $2.95 per month, you get lots of standard features compared to what its prominent competitors offer at a hiked price. As you sign up for its monthly plan, you get access to the following features: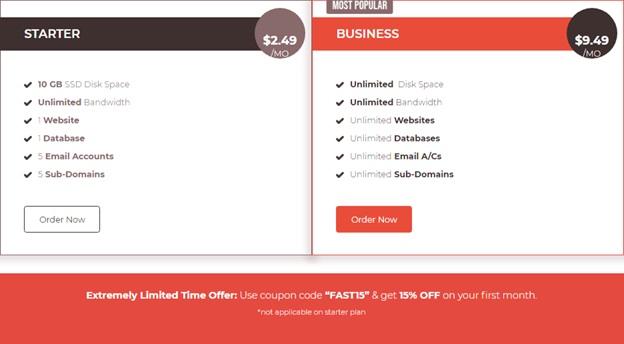 Free SSL Certificates
cPanel/WHMCS Control Panels
Free Data Backups and Restores
Free DDoS Protection
Live Chat Support
Website Templates
Free Domain Name
MySQL Databases
PHP Version Selector
FTP Account Access
Host4Geeks offers a monthly starter plan of cPanel SSD Web Hosting for $2.49 with features like 10 GB SSD storage space, unlimited bandwidth, one website database, and five sub-domains with five email accounts; which is suitable for individuals, bloggers, and small businesses. A premium plan for the same cPanel Hosting is available at $9.49 per month, which allows you for unlimited data usage of all basic features.
cheap Reseller Hosting plans starts from $7.96 per month and ends with $35.96, which gives you 100 cPanel accounts with a free subscription to access WHMCS and are ideal for hosting providers and agencies.
The system of Managed VPS with cPanel and DirectAdmin, which is apt for professional businesses and leading markets, monthly price commences at $25.95. It goes up to $65.95 that significantly correlates with the ventures with needs of up to 8 gigabytes of ram, 200 GB of SSD, and eight cores of CPU for the best web server hosting.
If you compare Host4Geeks with its competitors, you can find a notable difference upon price and some additional free-stuffs like free SSL certificate and SEO tools that are definitely nice having for your new website.
Performance on Server:
Blazing fast servers and the network is what they promise. Host4Geeks manages ultra-speed servers with sheer SSDs that are up to a hundred times speedier than regular hard drives. They have their servers developed with Nginx and LiteSpeed API that shortens the loading time of the website and enhances the server performance while overall ensuring a high-speed web-surfing experience to your users.
Also, it maintains four geographical data centers: Lenoir and Los Angeles in the United States, Maidenhead Datacenter London in the UK, and Hinjewadi center in Pune city of India to offer the best web hosting data solutions to their respective surrounding networks. All these data centers are essentially concerned with providing regional proximity for high-speed production, tactical background for dynamic network connectivity, and maximum industrial security.

Customer Service and Support:
An excellent client support team monitors the blazing-fast servers and the network. 24/7 Help Desk is easily accessible from their official websites through email and Live Chat, and Whatsapp and Skype IDs that always pop up at the top of their homepage.
Unlike its competitors, Host4Geeks provides super-fast customer service with an average ticket response time of 40 minutes. That means when you submit a ticket, you get an immediate response and a quick solution to your queries, whether it's about web hosting system or billing.
Host4Geeks Pros:
Affordable web hosting for your website that helps your site to have an Improved, fast and smooth website performance. You get domain linked professional email addresses for your organization and team. The host helps you to enjoy the highly secured website with an SSL certificate. You have website data and backup safe and secure with you.
You are enabled to manage the website user database from your end. And most of all, you get technical and virtual support readily. Your data is stored in the cloud and hence accessible at high speed. You have your website a high response rate and your data is indeed safe on the host server. You have unlimited space to upload media. Host4geeks web hosting also gives you more opportunities for SEO.
Not only this Host4Geeks is consider trusted and awarded by top web hosting review sites.
Why you should buy it?
The evaluation of Host4Geeks is all about how you judge its features, price, and performance with existing competitors. You may find costs of almost all of its web hosting services reasonable than some of the well-known web hosting providers across the globe. Features are another critical thing to opt for it without having a second thought.
Although, at some point, some features may occur inefficient if you're already occupying a website with a high authority domain. But still, for its low price and standard features, it can be a great purchase, whether you're going to have a blogging site or an e-commerce business.
Wrap up:
All the praises for Host4Geeks is a cost-effective way to maintain your website. It is an affordable solution to web hosting with great features and excellent server performance to let your users experience ultra-fast website surfing.
Affordable web hosting plans supported by great customer service accredits Host4Geeks as a reliable web hosting provider across the globe.